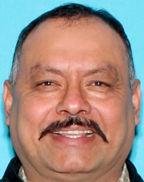 PROSSER — A Prosser man was arrested in Union Gap just after 8 p.m., on Sunday, Aug. 11, for the suspected murder of his wife, Graciela, in their rural Prosser home the night before.
The suspect's vehicle, a red 1989 Ford Bronco with a cream top, which police believe Fuentes used following the murder, is missing.
Silvestre Rojas Fuentes, 55, was taken into custody, without incident in the small community of Union Gap, outside Yakima, the night after he fled the murder scene at the family home on King Tull Road.
Attempts to resuscitate Fuentes' wife, Graciela Gomez, were unsuccessful, following a response by Benton County Sheriff's officers. Gomez was pronounced deceased at the scene on Saturday evening, Aug. 10. Officers were called to the home by a 911 call made by the couple's son. Gomez was fatally wounded by three gunshot wounds to her chest made from a .45 caliber pistol, the same type registered to Fuentes.
According to the Benton County Sheriff's Office dispatch, the county Gang Team with the assistance of the Washington State Patrol, Union Gap Police Department and Yakima Police Department, assisted with Fuentes' arrest the next night.
Fuentes was booked into the Benton County Corrections facility in Kennewick, on charges of First-Degree Murder.
Fuentes' Ford Bronco is sought by police who believe it can be located somewhere between Toppenish and Union Gap. The license number is Washington BAP2794. Anyone with information about the vehicle's whereabouts is asked to call 509-628-0333.